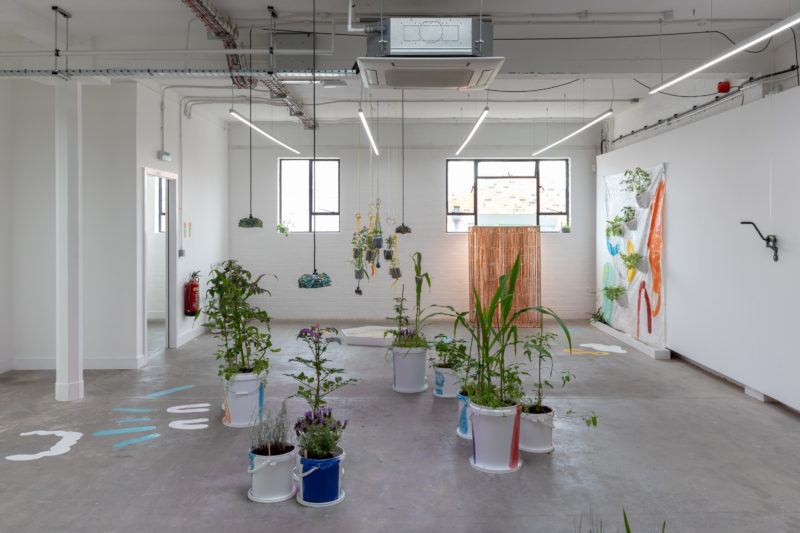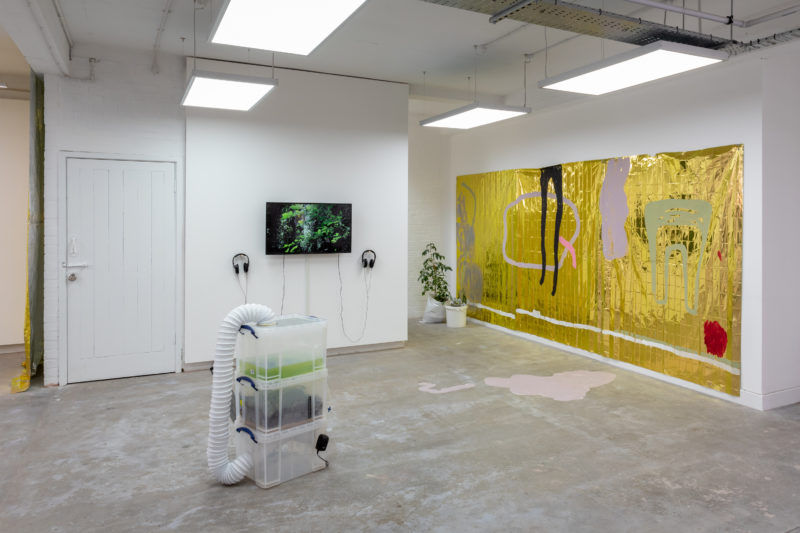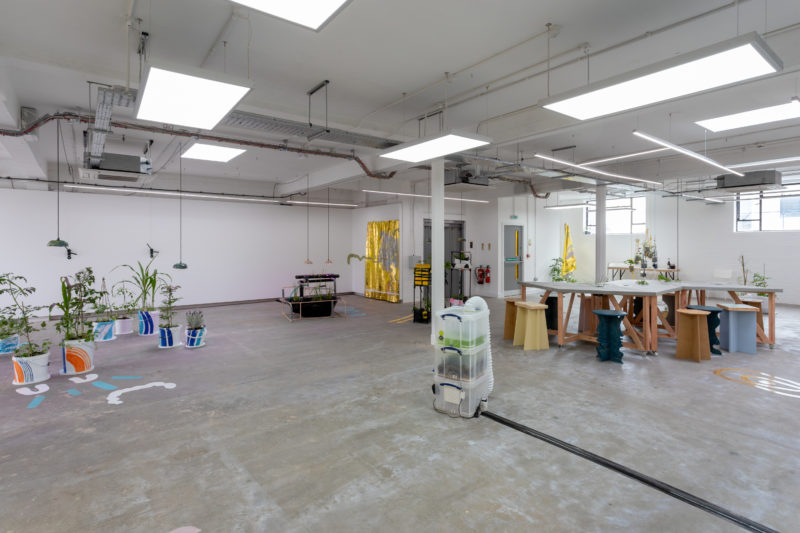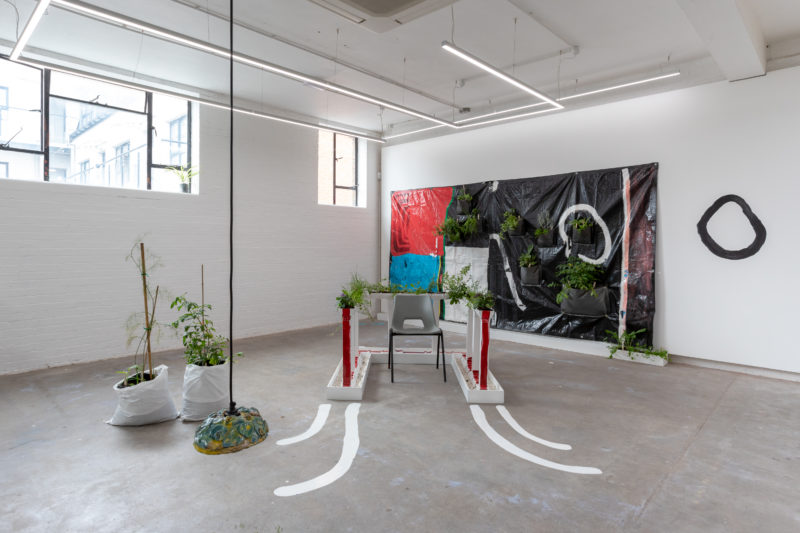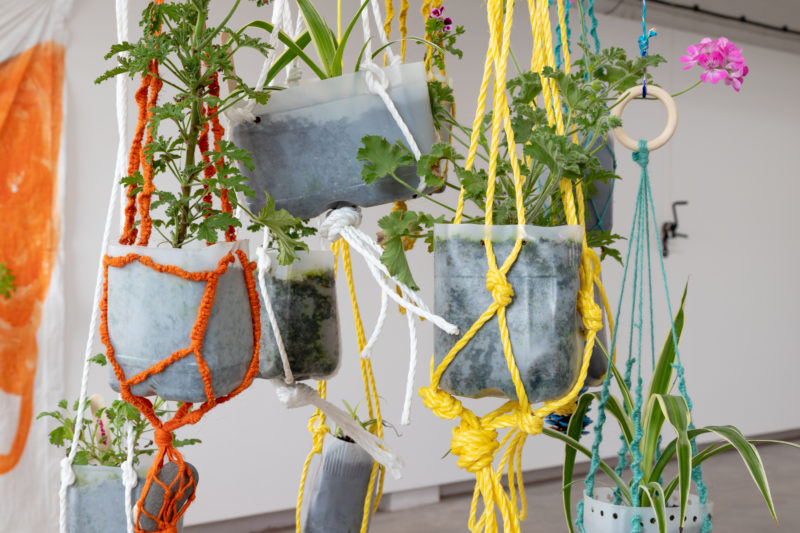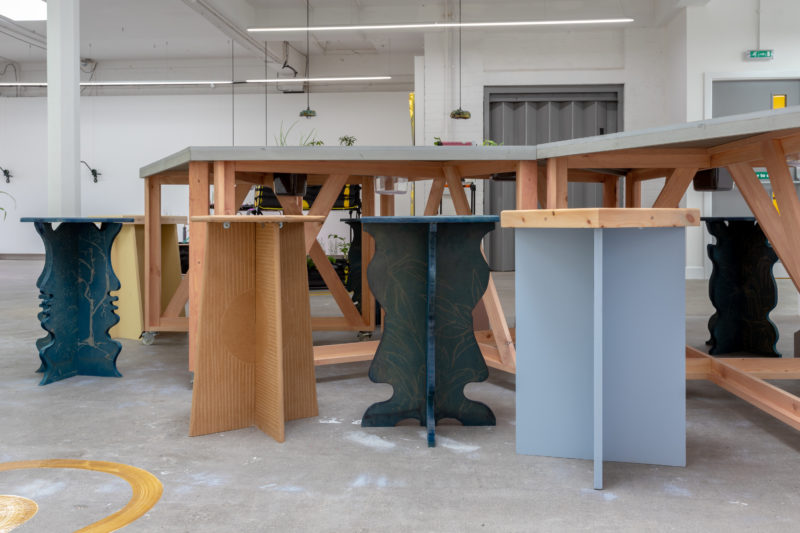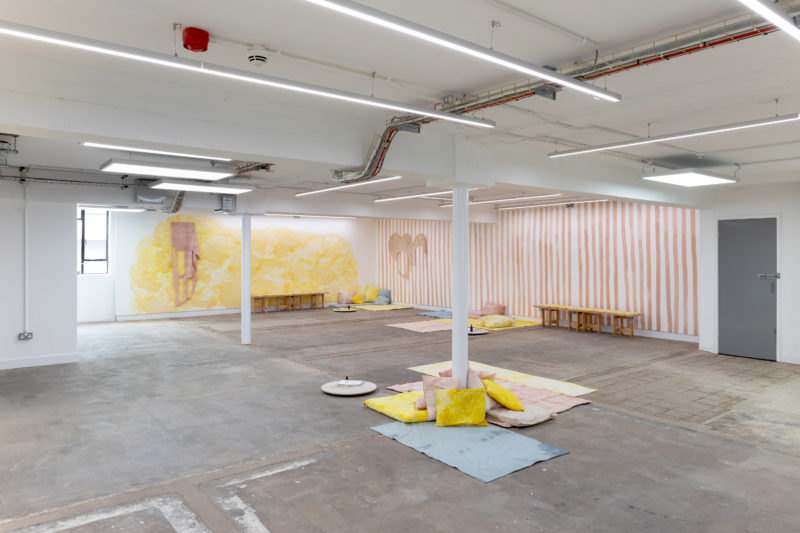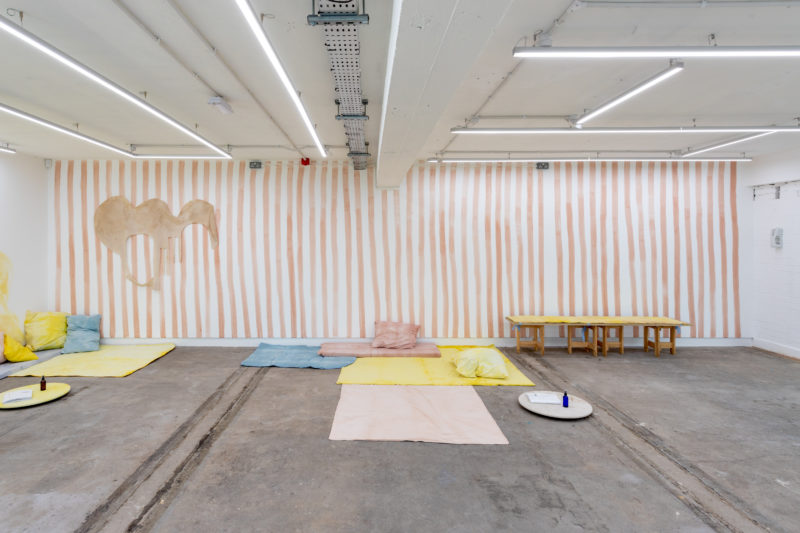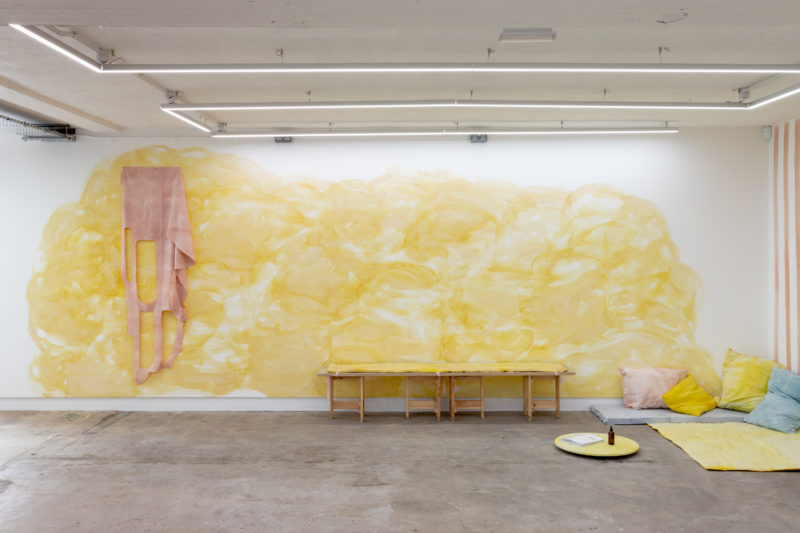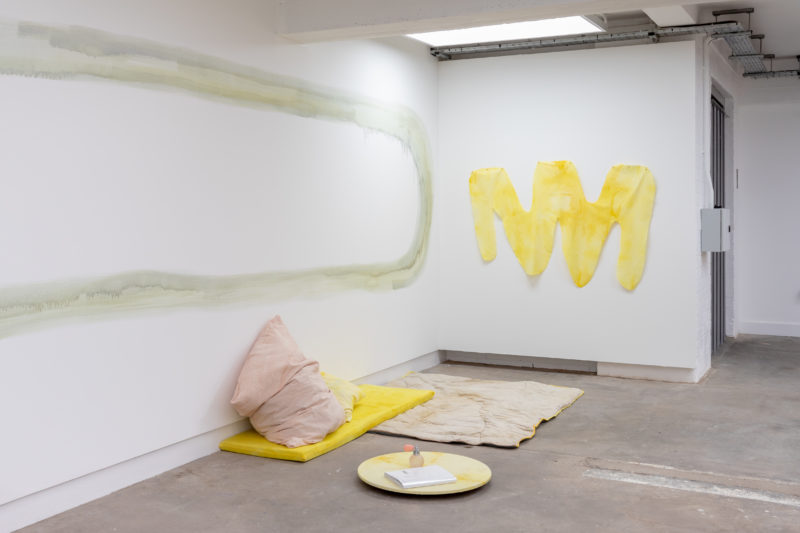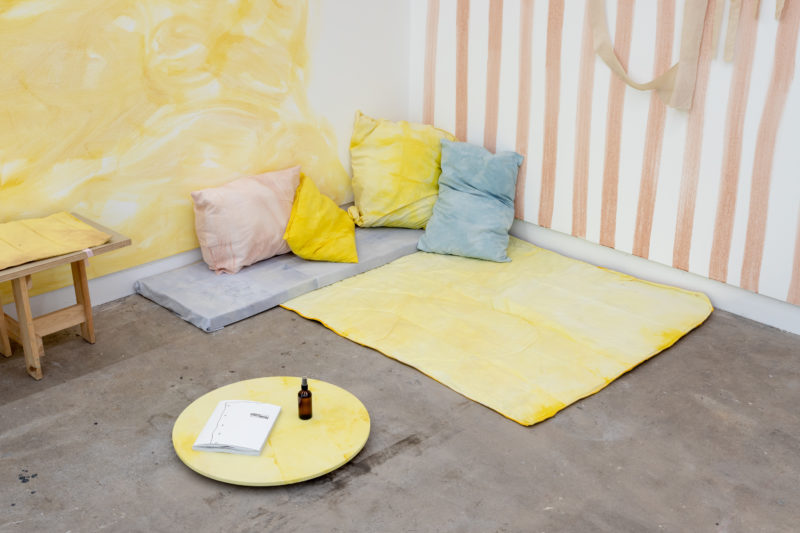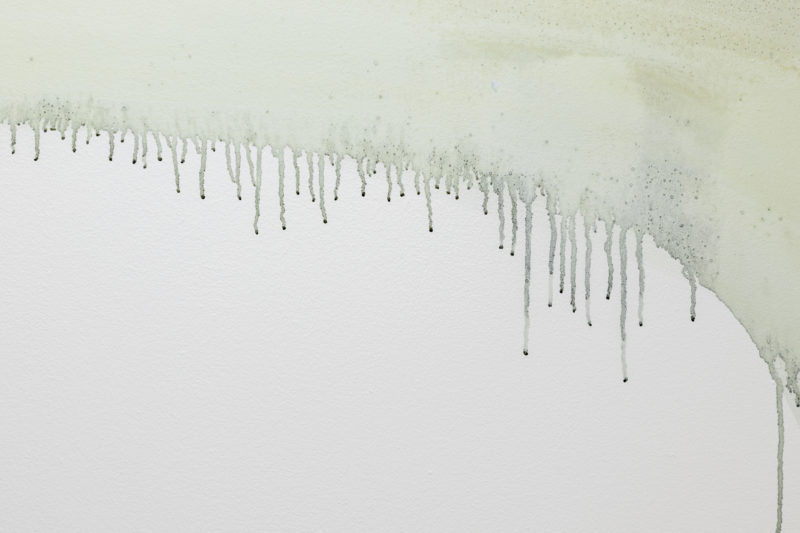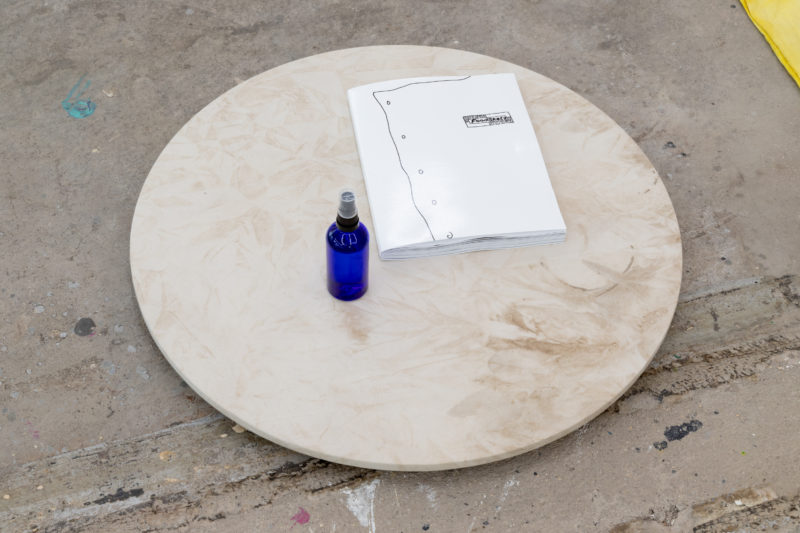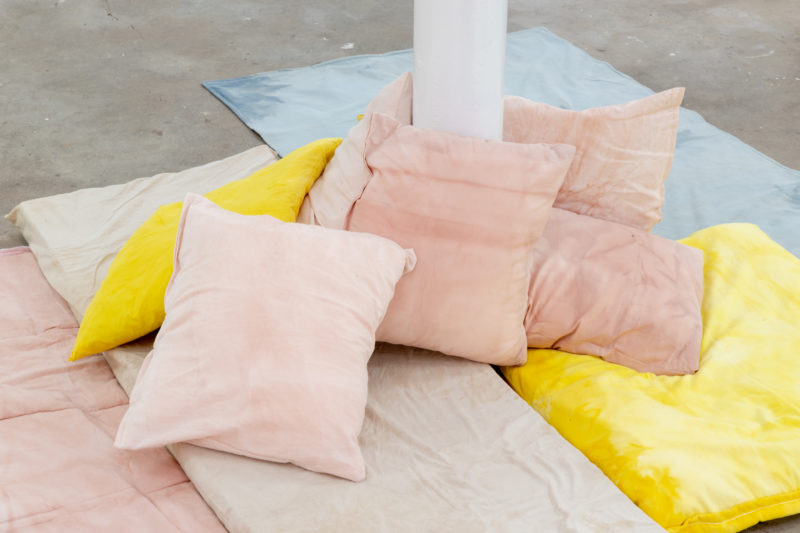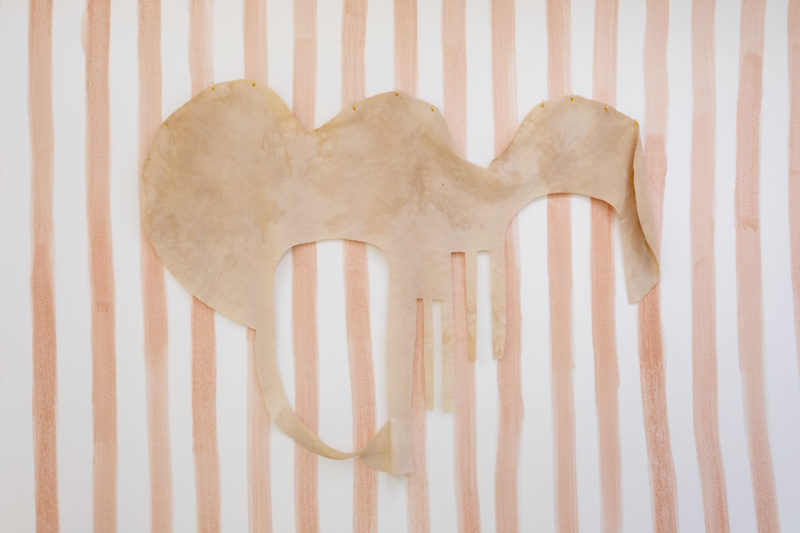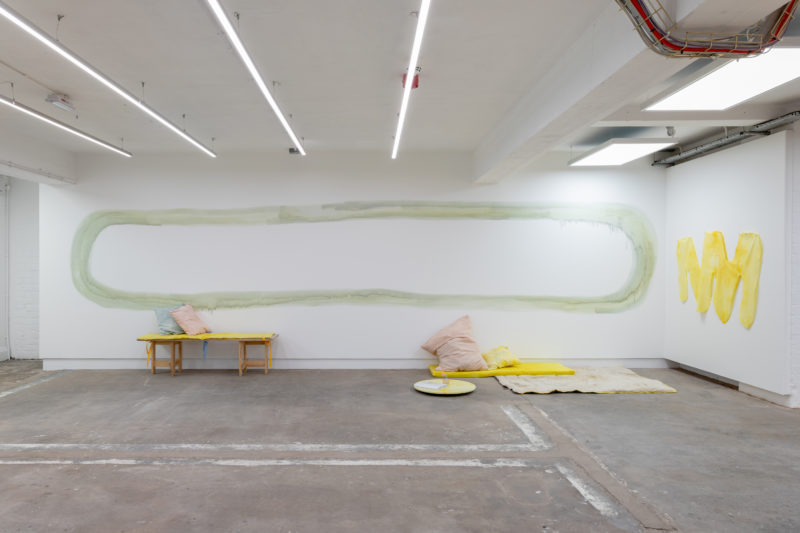 Images: Frances Disley, The Cucumber Fell in the Sand. Courtesy of Humber Street Gallery and the artist, 2019. ©Jules Lister
Through her ongoing interest in the subject of self-care, Liverpool-based artist Frances Disley investigates Hull's rich heritage around food, with an exhibition that features sculpture, painting, textiles and plant life. The Cucumber Fell in the Sand is supported by an extensive programme of activities, events and take home objects that celebrate the goodness of people and nature.
The exhibition has been devised in collaboration with artists Gregory Herbert, CBS Studios (Joseph Hulme, Liam Peacock & Theo Vass) and Foodsketz (Alison Claire & Cat Smith). Each of the artists have collectively explored the philosophies of American architect and systems theorist Buckminister Fuller as well as Hull's own Joseph Rank of Joseph Rank Limited. Both, pioneers in environmentalism and food production.
The two-floor exhibition examines our relationship with food through living sculptures. Gallery 1 focusing on scent disseminating devices which enhance relaxation, rest and reflection. The exhibition continues to Gallery 2 with mobile planters filled with vegetables and scented plants associated with stimulation and energy as well as sculptural filtration systems that explore how food is produced commercially.
The Cucumber Fell in the Sand ESSAY BY, ORLA FOSTER Maintaining a healthy lifestyle is easier said than done. While the healing power of plants is well-documented, and nobody deliberately sets out to eat a multi-pack of strawberry laces for dinner, in the smog and commotion of everyday life it can be difficult to take pause long enough to look after yourself. Fortunately, with The Cucumber Fell in the Sand, Frances Disley brings the natural world directly to Humber Street Gallery, in an installation celebrating the environment as a stimulus for creativity and health. Developed alongside artists Gregory Herbert, Joseph Hulme, Liam Peacock & Theo Vass of CBS Gallery & Studios and Alison Claire & Cat Smith of FoodSketz, the exhibition moves away from art as abstraction and looks instead at how it can be adapted to celebrate our intrinsic connection with nature. Ideas surrounding fitness, meditation and wellbeing all come to the fore, with the gallery operating as a haven for a kind of art designed to stimulate the senses, rather than an unintelligible message beamed down from a plinth. Taking cues from Buckminster Fuller, an American architect whose experimental designs challenged how people interacted with their environment, the artists have galvanised the space using sculpture, textiles, and plant life to create a whole ecosystem within the walls of the gallery. The work is collaborative, constructive, a synergy of different practices and cross-disciplinary wisdom. Everyone who enters is invited to take part — even if that just means sprinkling some seeds into the soil-filled pockets of one of the paintings. This synergy is apparent at every level of The Cucumber Fell in the Sand. Its colourways are plucked from activewear catalogues, their luminous hues translating the adrenaline-soaked ambience of the gym onto canvas. The supple texture of yoga mats is incorporated into garden planters, and large metallic drapes alongside reflectors in rose gold not only illuminate the space but also radiate light right back to the plants. These are not arbitrary sculptural forms but objects with a practical purpose, each of which is symbiotically connected to the other elements within the exhibition. Over the years, Disley has been exploring ways to filter out what she perceives as the indulgence of artistic practice, and its inaccessibility. Frustrated by the stable, "finished" quality of painting, she began to question how she could activate her work, unleash its kinetic potential and share with others the joy she felt creating it. She sensed a gulf between the studio's hotbed of inspiration and the more muted experience of the gallery visitor, shuffling between compositions, catalogue in hand. Likewise, the long-suffering gallery invigilator, consigned to squirm on a stool for hours on end, or pace from wall to wall until finally, blue with boredom, they finish the shift counting up the individual fibres on their jeans. This is exactly the kind of gallery experience which The Cucumber Fell in the Sand sets out to disrupt. Gallery 1 is for peaceful meditation, a place to inhale perfumed drifts of natural oils and essences, to sprawl on cushions tinted with turmeric and avocado pits. It tests out the idea that gallery infrastructure can be more to visitors than simply an observation deck. In Gallery 2, a pathway of plant pots guides you into a custom-built biosphere, brimming with vegetation. Paintings and sculpture are flanked by complex water filtration systems developed by Gregory Herbert to sustain vegetables, flowers and herbs. In the centre, a substantial workshop table and stools, custom-built by CBS Gallery & Studios, accentuate the importance of the communal workspace as a prompt for people to experiment and develop ideas together. This philosophy is shared by FoodSketz, a food-centred collaboration between artists Alison Claire and Cat Smith, whose publication highlights how the sharing of recipes and tutorials can be deployed as a radical social tool. The work is also a subtle nod to Hull's own history as a centre of food production, thanks to industry pioneers such as Joseph Rank who, in the nineteenth century, developed a mechanical flour mill that transformed his entire industry. Hull itself has long been receptive to food innovations as a result of all the different influences passing through its port. But on a less intimidating scale, this part of the exhibition advocates finding a better, happier quality of life by taking stock of the resources available to you.
Disley is influenced by the therapeutic effect that art, and even individual objects, can have on mood, whether it's the calming fragrance of a geranium leaf, or the smooth, time-whittled surface of a pebble clasped in your palm. The show's title is deliberately tactile, inviting you to taste the texture of grit against cool green flesh. These are sensory experiences, however, that can't simply be articulated in words. For this exhibition, and its accompanying events programme, the key is to be in the moment. Defining one's own version of self-care is a topic that has emerged in Disley's previous collaborations too. In Liverpool, where the artist is based, her project Relax & Repeat shunned the bossy, Goop-y orthodoxy of the wellbeing industry by asking participants to curate their own soothing scents and meditation routines, while RRR (Release Re-energise Restore) merged painting with choreography and techno for a totally interactive installation whose composition was only complete when people danced in front of it. But rather than being paraded as high art, the workout was slipped by sleight of hand into the dance programme of a community centre in Bootle. It worked, even the most suspicious and frog-marched husbands came away feeling invigorated. Disley is nonetheless troubled by the implicit elitism of self-care as a culture, with all its endangered kelp and promises of dewy skin. That tiny white tub of cold cream is cold comfort if it costs more than your rent; one might also bristle at the suggestion that a corrective is needed, that something about your lifestyle is unsavoury and wants rooting out. But in this show, peace of mind lies just beneath the surface, it is about letting goodness take root. The Cucumber Fell in the Sand proposes a gentler alternative to wellness culture, reminding its visitors of all the untrumpeted miracles already to be found in nature, and in this calm space, they too can be quietly enjoyed. What could be more pure, honest and good than a homegrown tomato the size of your head? The exhibition is intended as a catalyst for visitors and practitioners alike to participate in workshops where they can share different experiences and skills. FoodSketz will host the event, Kneading Dough, an opportunity to talk about anxiety and depression while making a vegan flatbread, while other sessions demonstrate how to forage, how to make meals from discarded produce, how to turn a pallid garden into an eruption of colour using seasonal flowers and crops. This is art at its most practical, radiating an optimism and sense of purpose which places the enrichment and nourishment of the viewer above all else. Perhaps you didn't think, when you arrived today, that you would end up being part of the work. The Cucumber Fell in the Sand invites you to pull up a cushion and do just that.ABOUT THE AUTHOR Orla Foster (b. 1987) is a writer based in Sheffield. She has previously written for The Double Negative, Corridor8 and Bido Lito. Her forthcoming publication Lovely Little Nutmegs will be released in July 2019.